Update your website!
94% of people cited poor web design as a reason they mistrusted a website (source: 10 web design statistics). If a website visitor does not trust your website, they do not trust you or your company and you are VERY UNLIKELY to ever receive a phone call from the. In other words, a bad website is probably doing more harm than good and you would be better off with no website.
If your website was designed more than 3 years ago – I don't even have to look at it to tell you that you should be hiring a web developer to update it. I don't even like websites I've designed 3 years ago! Sometimes I look back on my old work and I think "what the hell was I thinking". Something all web designers know (or should know) is that the trends in web design today, will not be the trends tomorrow.
Why updating your website is important
Let's take a look at a couple of websites: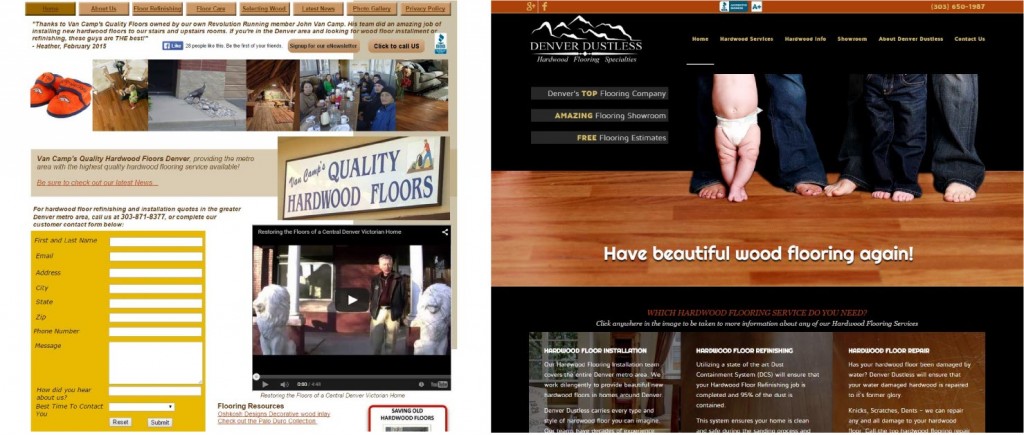 * Which one of those 2 websites do you think is more likely to entice a customer to either pick of the phone and call the company or fill out a website form?
* Which company would you call if you were about to spend $5,000 on a new hardwood floor?
* Would you call the one that looks cheaply built, or the one that looks professional?
Your website is their first impression
You know the old saying – you only get one chance to make a first impression. That couldn't be more true with regards to your website. Think of a website visitor as a hot date. If you were meeting someone for the first time, would you show up in a 3 year old faded and tattered outfit? If you did, how likely do you think it is that the date is going to go well? Most likely you will not get a 2nd chance either.
If you are a large corporation or a 1 man show – your website is your potential customers first impression of your business – don't squander it!
With the anonymity of the web, you will not get another chance to impress that potential customer. You will literally have lost the opportunity, and you will not get it back so do yourself a favor and invest a little time in and money in a new website. You will be glad you did and the return on investment will be well worth it.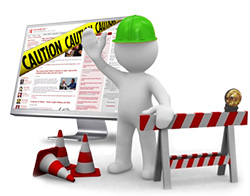 1. Search Engine ranking
Does your website rank good enough in the search engine? Do you need to include new keywords? Does your website have a high bounce rate? Does your website contain unstructured links or even broken links?
A site redesign can help you attract more visitors in a number of ways. Applying modern SEO and strategic internet marketing techniques techniques can help rank your site higher in the search engine result pages. Building search engine hooks into a new site is much more effective than trying to increase your rankings once a site has been built.
2. New Company Strategy or Target
Does your website compete with your competitor's websites? Do you want to attract a new audience? Does your website provide a strong brand image? Is your website able to grow with your business? Are you going to re-brand your products or the company as a whole?
With clear and firm goals and an understanding of your visitors, you can make well-informed decisions on how the site should look, work and feel.
3. Content
Has your content become outdated? Is your content readable? Does your website have social media integration? Does your website reflect where you're heading, not where you've been?
The first impression of your website would obviously be the overall layout, but a reader is visiting your website because he/she is looking for useful information. The content of a website should be considered to be the most important thing, as it helps in determining how effective a website is. Fresh and unique website content is an very important factor in encouraging people to revisit your site more often.
Content is king. If your site's content is out-of-date, it's certainly worth having your site redesigned to enable people in your organization to update content themselves (CMS). A site redesign can also give you the opportunity to re-address how you communicate with all your visitors and to write copy that is simple, on target and more effective.
4. Technique and Coding
Is your website browser compatible? Is your source code valid (HTML and CSS)? Does your website meet the basic web standards? Is the technique and/or (version) programming language outdated? Is your website build with frames or is it table-dependent HTML? Is you website easy accessible for other (mobile) devices? Is your HTML code semantic and well-structured?
An important factor you should consider is the increase of usability in web design. Every year web standards change radically and techniques to build web sites become more advanced in order to comply with the latest standards. If your site was developed several years ago, it probably has a lot of unnecessary HTML code, not letting your web pages load fast.
Modern techniques of CSS coding allow to make web pages adaptable on every mobile device, so getting yourself a new custom responsive redesign might be a great idea if you want to increase the accessibility of your site.
5. Visual Appeal
Can your readers find the information they are looking for? Is your layout cluttered and confusing? Does your site look a little old and tired?
First of all, a website should be easy to use and easy to navigate. If you can't find what you're looking for, if the site navigation drives you crazy the website is not doing it's job. When people visit your site, they see it as a reflection of your organization. If your site looks professional and is loaded with useful information readers will see you as an authority and expert. Likewise if the site looks poorly designed and structured and/or out-of-date they'll make the same assumptions about your company.
The website should highlight your product and/or service, also the layout should look harmonious and consistent. Proper site planning and wire framing are tools used to make sure that everything falls into place.
6. Extra Features / Content Management System
Using free or basic templates for your CMS? Can you change the content of your website by yourself? Is social media integrated into your website? Does your website need extra features; e.g. a newsletter with single or double opt-in subscription process?
A Content Management System (CMS) is another reason to justify the creation of a new redesign for your website. The only programming skill you'll need to change texts, images and other media files, or to add new pages and/or articles to your web site is knowing how to work with a simple text editor. A website is no longer just static words and graphics. A great website is also designed to hold tools like blogs, photo galleries and social media integration.
7. Mobile Friendly
Is your site able to be viewed on a smartphone? Is it easy for people to locate information quickly and easily via their mobile browsers or iPad? With the number of mobile users increasing every year, having a website that is both mouse-friendly and touch-friendly is more of a necessity than a trend. But have no fear, CSS3 can accommodate mobile technology in web design. In fact, mobile sites play a major influence in the minimal web since it calls for simpler pages, faster loading times, interactivity and quicker messages.
In conclusion, if you haven't updated your web site in a few years chances are that you may be missing out on some really great tools and methods to build your business, increase sales, market your brand, achieve better rankings, and increase your online reputation. And your competition may be doing so right now.
– Sources: www.backpocketmarketinggroup.com | www.cosmosenterprises.com –